Kitchen storage is a nightmare for most of us. The pots and pans, baking trays, casseroles, cutlery and grocery… we cant do without them but wonder how we can manage to store all of them in our space-starved kitchens. If you are among those who lives in an apartment with a tiny kitchen, you would empathize.
What we could do with are efficient kitchen storage solutions, solutions that will make the best use of available space. Plan your kitchen storage location well. Food storage and food preparation areas must be clearly chalked out. Good use must be made of unused or under-utilized spaces.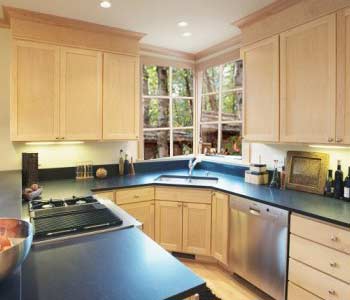 It is essential that you make best use of your kitchen island. Concealed storage in your kitchen island is a boon, especially if your kitchen is small. You can maximize your storage with pullout racks, spice drawers and customized bins to make efficient and practical use of space. Hanging up pots and pans not only offers kitchen storage solutions but can lend your kitchen a lived-in look, much like that of a rustic inn. The dead space on your walls is put to good use with simple screw pegboards and hooks.
• Placing your kitchen storage items higher will give you more space. Put away items not frequently used on the higher cabinet racks.
• Food preparation areas must be well equipped with knives, spices and ingredients. Ensure that the necessary tools and vessels are available at hand.
• Plan food storage correctly. Place frequently-used items within easy reach. Store dry goods into airtight, stackable containers.
• Try putting up a towel bar to a cabinet door and you will have your dish cloth or hand towel within easy reach.
• Stock pots, saucepans and bowls by size and store them near your food preparation area.
• Don't forget a place for the cleaning supplies and wastebasket.
• Plan out a space for the cooking oils.
• Go in for full-extension pullouts. This will relieve the need for reaching deep into cabinets.
A basic principle of kitchen storage is to maintain clutter-free counter space. This allows you to space to lay out your ingredients and cooking utensils. You can choose to put away your kitchen stuff out of view in neat kitchen storage cabinets or go in for display on open racks. Alternatively combine the look with closed kitchen storage cabinets and put open shelves to best use with cookbooks and attractive kitchenware.
We have carefully looked into various areas of kitchens in detail to help you remodel your kitchen storage and décor.
Kitchen cabinets – Kitchen Storage Cabinet
Kitchen remodeling – Kitchen remodeling Ideas