Yogurt has always enjoyed the reputation of being healthy, cool and wholesome. It is extensively used in all parts of the world and relished for its taste and nutritional benefits. But the regular yogurt is bit runny and may not suit a dish that requires thick consistency. Greek yogurt is an interesting variation to the plain yogurt and is favored for its thick and creamy texture.
Native to Greece, it is made by filtering yogurt in a cloth or paper bag or filter, to remove the whey, giving a consistency between that of yogurt and cheese. It is widely used in Greek cooking and is typically made out of sheep or cow's milk, however Americans prefer cow milk to prepare Greek yogurt.
Greek yogurt can be eaten plain or can be enriched by adding fresh fruits or honey or maple syrup. It also makes an excellent substitute for sour cream. It is used for yogurt dips, salad dressings, sauces, smoothies, desserts or any dish that can absorb the taste of the yogurt very well. It is readily available in the market but it can be made at home too. The good news is that you do not require great skills to make it but you certainly require patience as it consumes quite a bit of time.
How to make Greek yogurt at home
Here is a simple recipe for homemade Greek yogurt using full fat milk. To make Greek yogurt, you need 4 cups of whole milk and 3tsp of plain yogurt (homemade or bought).
Boil the milk and set it aside to cool down.

Add three tbsp of plain yogurt when the milk is slightly warm. Cover the pot and do not disturb or move the container.

It takes 7 to 8 hours or overnight for the yogurt to set. Yogurt needs to be refrigerated once it is set or it may turn sour.

To make Greek yogurt, take a large sized bowl and place a strainer on it.

Line the strainer with cheese cloth and pour the yogurt in it.

The whey starts dripping in the bowl and after few hours (5 to 6 hrs approximately) you will find the thick yogurt remaining in the cheese cloth. (Since filtering process takes quite a long time it is better to keep the bowl inside the fridge while the whey is dribbling through the strainer.)

Now delicious Greek yogurt is ready to eat.
There are many ways to eat Greek yogurt. Eat it plain or flavor it according to your choice. Greek yogurt can be savory as well. Tzatziki is a popular Greek dish that is prepared with strained yogurt. It is an appetizer dip that is made by combining Greek yogurt, cucumber, olive oil herbs such as garlic and dill.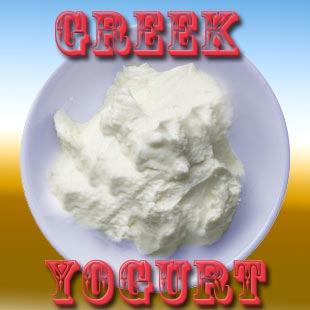 Benefits of Greek Yogurt
Greek yogurt is an excellent source of protein. To make one cup of Greek yogurt, you may require 3 to 4 cups of plain yogurt which means one cup of Greek yogurt provides the goodness of 3 to 4 cups of yogurt in a concentrated form. A six ounce serving of Greek yogurt approximately contains around 15 to 18 grams of protein.

Apart from protein content, it also contains all the nutrients, calcium, bacterial cultures of yogurt in a concentrated form.

Smoothies and dips made with Greek yogurt are an excellent option for those who are intolerant to lactose. The lactase which is present in the yogurt (but missing in the body of those who are intolerant) may help break the lactose which causes the discomfort.

Greek yogurt is lower in carbohydrates than most standard commercial yogurts and hence keeps blood sugar levels under control. You can also cut down on fat content by opting for low fat version.

Greek yogurt contains lesser sodium and refined sugar when compared to other yogurts available in the market as the straining process will remove much of the salt content from the yogurt.
Greek yogurt nutrition
Greek yogurt is a rich source of calcium, thiamine, riboflavin, vitamin B12, omega 3 fatty acids and phosphorus. The calories, fat and cholesterol content of the Greek yogurt depends much upon the kind of milk used to make the yogurt. The full fat yogurt scores high on calories compared to low fat or no fat version. The calorie count goes even higher if the yogurt is sweetened or flavored. Therefore, if you are picking the yogurt off the shelf, do look for nutritional values provided on the package.
The low fat version of Greek yogurt contains the following nutritional values. The values mentioned below are according to 2000 calorie diet and a serving size of 1 Container (6oz or 170g).
Greek yogurt smoothie
Make tasty healthy smoothies with Greek yogurt. Use fresh strawberries, melons, peaches, bananas, blueberries or mangoes – alone or in combination. Blend together 2/3 cup Greek yogurt, 1 cup milk, sliced bananas, mixed berries. Drizzle a few drops of honey.
A quick protein pick-me-up is a berry and banana Greek yogurt smoothie with ground flaxseed. Blend with orange juice and its ready in a jiffy!
An ideal low-fat snack is Greek yogurt dip. Keep hunger pangs at bay by whipping up an interesting dip. Grate peeled and deseeded cucumber. Mix with Greek yogurt, chopped fresh mint and dill and minced garlic cloves. Season with salt and squeeze in a teaspoon of fresh lemon juice.