Windows 10 now has the new Edge Browser, named after the EdgeHTML layout Engine which appears to outperform all other current browsers – albeit with its own limitations. Microsoft says that the new browser is developed from scratch and complies with the web standards. Before the Windows 10 Anniversary Update, Edge has many 'new' features:
1. Make Web Notes : You can highlight, add comments, create box in the color of the available choice and save the notes. Whilst at it, you may also share your Web Notes in – OneNote, Mail or Messaging.
2. Reading View: You can check out only the content with out the trappings of Ads, Images and other normal paraphernalia of a typical website – a feature borrowed from Apple Safari. In this mode, you get to see a bare bones text only version without any clutter – probably a useful feature for a lengthy article.
3. Using the digital Assistant Cortana: Now the Edge Browser is hardwired with Microsoft's personal digital assistant which can tell you something about the highlighted text. Cortana can make connections with available text resources in your connected devices and with information supplanted from its Bing Search Engine can help you plan your itinerary if you are traveling, or help you source the ingredient for the recipe you are searching.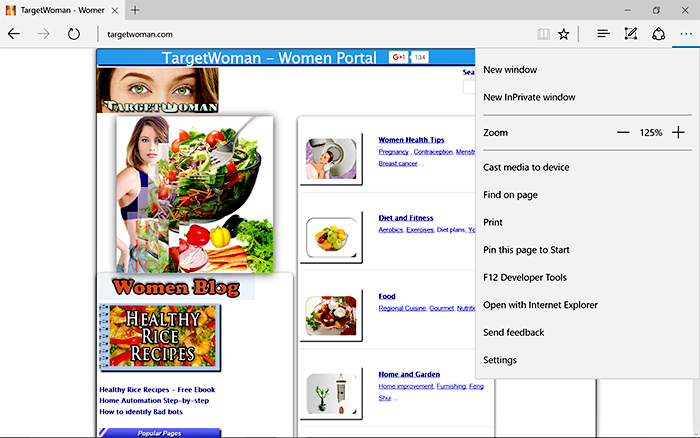 Edge comes with other surprises as well – it can read PDF without any plugin. I wanted to check out the resource usage of the browsers running in my Windows 10 Pro Computer. As expected Edge has the lowest usage of resources : from memory footprint to CPU usage.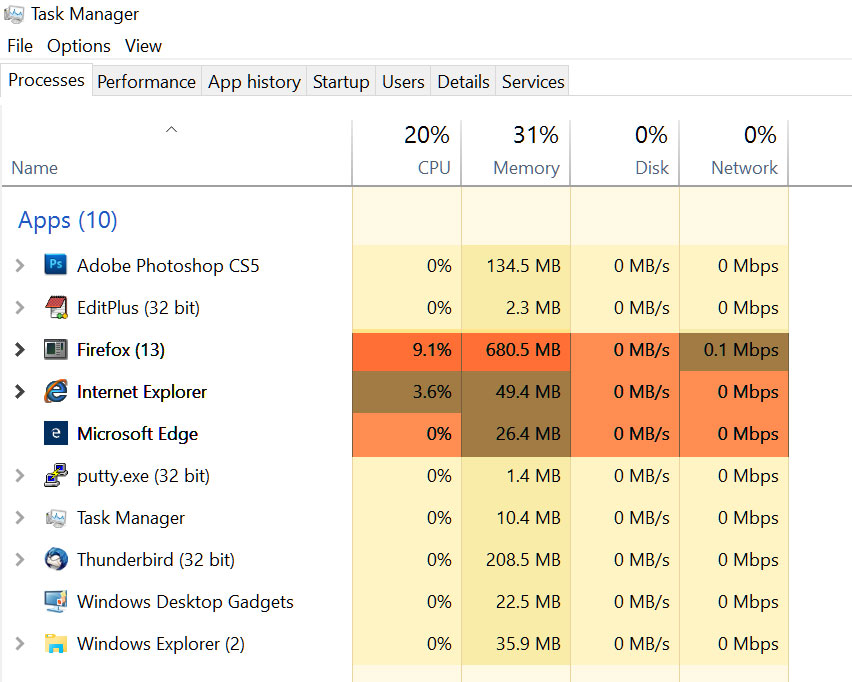 Edge used only 26.4 MB when compared with its sibling Internet Explorer 11 which took 49.4 MB, this is probably the lowest memory footprint. On the other hand, the regular FireFox 41.0.1 took upwards of 680 MB. It doesn't stop there – the stability of the browser when the open window has a page which keeps loading additional components is an important factor. Firefox appears to be the most prone to crashing in this list of browsers. Internet Explorer 11, we have noticed from the Windows 7 days, has been stable in the face of many problematic pages. Edge carries this trend forward and remained robust when I loaded pages which caused issues with Firefox.
Normal legacy IE 11 still does duty in Windows 10. You can start Internet Explorer 11 many ways. Type into 'Search the web and Windows' the word – Internet and you will see the Internet Explorer as a Desktop app. Or fire your default Edge Browser and navigate to the site you want and from there click on the Ellipsis (three dots) on the top right and select 'Open with Internet explorer'.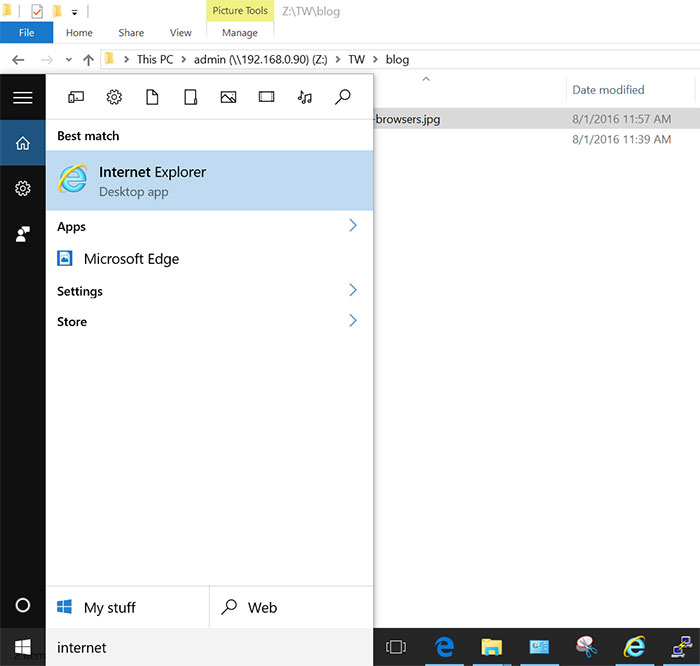 When you see their application status if you ALT + TAB you could make out the difference – the old IE 11 is in a lighter blue compared with the new Edge which appears in a dark blue 'e'.
Edge Browser identifies itself like this:
Mozilla/5.0 (Windows NT 10.0; Win64; x64) AppleWebKit/537.36 (KHTML, like Gecko) Chrome/46.0.2486.0 Safari/537.36 Edge/13.10586
Internet Explorer identifies itself as :
Mozilla/5.0 (Windows NT 10.0; WOW64; Trident/7.0; rv:11.0) like Gecko
in my version of Windows 10.
The bottom line is in Windows 10, Edge has the edge over other browsers – in terms of stability, speed and lower resource foot print.