We have covered the basic but most essential tools earlier. The list is not exhaustive and a whole lot depends on the type of job you plan to undertake. For most household repairs and the odd job in your car, you can make do with the tools we list here.
Utility Knives: Utility Knife comes in many shapes. Most use replaceable blades. When the tip of the blade loses its sharp edge, break it off with a pliers, observing standard precaution – Keep the knife away from the body and your face. The broken metal can fly off …
Electric Drill : Electric mains operated drills have more torque than their cordless cousins of similar sizes. But cordless drills are versatile and can be used anywhere without tethering to a mains outlet. Drills have amazing varieties of attachments – from buffing to sharpening your knives – you can use your ubiquitous drill.
Keep the batteries always charged when not in use to conserve the battery life. Most cordless drills are powered by Nickel cadmium batteries, which tend to lose their capacity when made to sit under discharged conditions.
Tapes: Keep a stock of electric insulation tape, duct tapes and measuring tapes handy in your tool kit. Remember to encase any temporary electrical connection joints in insulation tape. It is never pleasant to receive electric shocks …
Multimeter: This comes in handy to test for many electrical / electronic works – from testing continuity in circuits to measuring the current or measuring the voltage at the outlet. Again these meters come in many sizes with varying capabilities. A simple digital multimeter (DMM) capable of measuring upto 20 Amp AC/DC current will be adequate for most purposes. They can measure with adequate precision volts up to 900 or higher. They can beep or buzz when the prods are shorted or when there is continuity up to a few Ohms.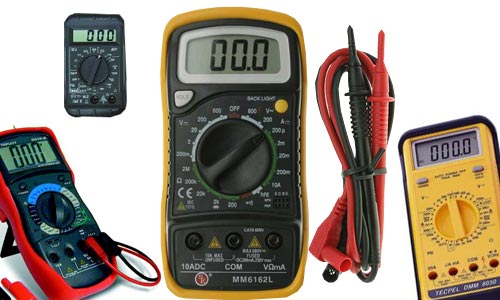 There was a time people used analogue meter movements in the Volt Ohm Meter (VOM). These meters use D'Arsonval Meter Movements, which are very sensitive and need careful handling as they use jeweled bearings. And they cost a packet of money. With the advent of digital revolution, digital meters have become insanely cheap to own.
Ensure that you have set the meter to the right function before connecting the prod. When you select the function to read the current and apply the prods directly across the mains supply – you are causing a direct short in the mains supply !
Currents are always measured in series with the equipment and the supply. Voltages are measured across the source. Switch off the mains when you test for continuity.
Find a good toolbox to store your collection of tools. Smear thin grease on the movable joints of tools. But the handle sections must never be greasy or be smeared with oil.