There it was – an email sitting in my inbox out of several hundreds I get every day. What made it unique was it was about 'empowering women' – our motto.
Women empowerment is not about just empowering individuals. When you empower women, their entire families benefit …. Creating ripple effects on future generations too! When women are provided the opportunity to manage their own lives, when women avail opportunities for financial independence, when women have access to education, it leads to overall development of the community.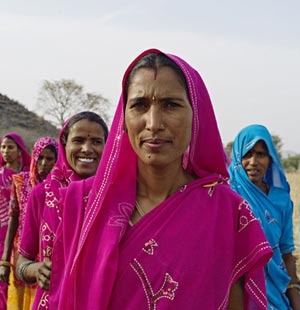 Women who received gender equity training in remote India
Take the case of Heifer International, an organization that seeks to empower women and create true gender equity. One of their recent initiatives saw a team from Heifer International and BLT Helps, a non-profit service organization visiting the arid desert region in India. The empowerment program extended to women from five villages in Alwar District of Rajasthan, a northern state of India.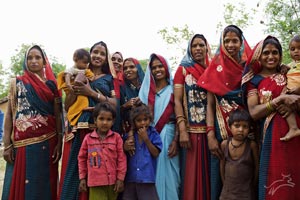 Women from the Aarti Self Help Group
I quote part of the mail here:
"In April 2010, Heifer International staff and a team from non-profit service organization, BLT Helps, traveled to Rajasthan, India to witness Heifer's work in action.  They sat with women from five villages who shared stories of their journeys from oppression and poverty to empowerment through the Heifer program.  Documented by renowned photographer Brigitte Lacombe, the photographs and videos in this collection provide a glimpse into the lives of the women who are working diligently to change the course of the future for their daughters and their communities.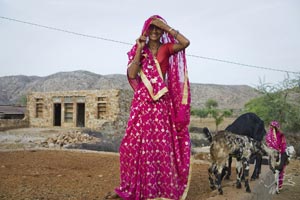 Woman and her goats provided by Heifer
As part of the objective to relieve global poverty and hunger, Heifer International supplied livestock, plants and training to women self help groups. It also provided a platform for the women to share their experiences as well as gain gender equity training. Illiterate women speak of their tales of empowerment – obtained by working diligently, gaining some education and training. Their shy but confident smiles are testimony to their pride in being able to change not just their own lives but those of their daughters too.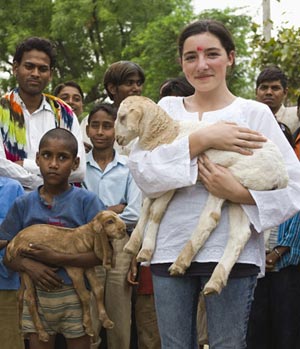 A Volunteer with lamb and children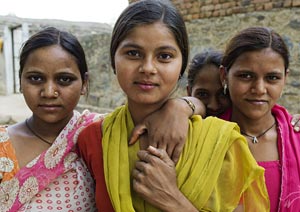 Girls gather outside a self-help group meeting in Bagad-Rajput.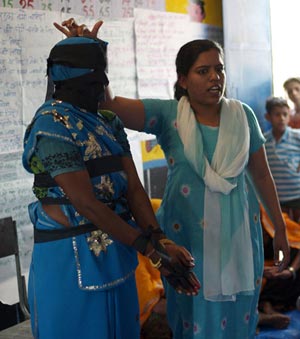 During a gender equity training in the village of Samara, a woman is tied with black ribbon to signify how society places restraints on her just for her gender. By the end of the session, she will be bound from head to toe.