A bad hair day! Greasy limp hair that doesn't hold a style well and clumps together – how often have we not faced such a problem? Greasy hair can be attributed to a variety of causes – hormonal changes, genetic predisposition to a greasy scalp and hair or absence of regular washing. Stress, chemical dyes or high-fat diets also play no small role in aggravating greasiness of the scalp due to excessive sebum production. Greasy hair is mostly faced by women with fine and straight hair as curly hair typically tends to be drier.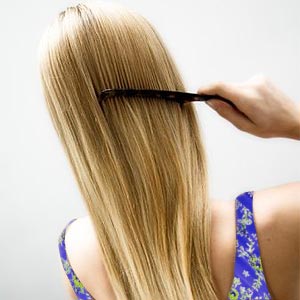 Shampooing every other day works well for greasy hair. But make sure to choose a mild shampoo that removes grease but doesn't leave your hair brittle and dry. Go in for a mild-pH or neutral cleansing shampoo. Select a conditioner that is especially formulated for greasy hair else it will worsen the greasiness. Apply on the tips of the hair and not on the scalp.
A few drops of essential orange, sage or lavender oil to the shampoo can combat greasiness of the scalp with their tonic and antiseptic properties.
Go in for plastic or horn combs that do not have fine teeth. Avoid styling products that are oily and weigh the hair down further.
A diet rich in zinc, Vitamins and amino acids can help your locks retain their natural shine without the extra grease.
Greasy hair quick fix
There are some quick fix tips that can work quick wonders for greasy hair and have you ready in a jiffy. A bit of talcum powder on your scalp helps soak up the greasiness. This makes hair manageable till your next wash. Use a natural astringent like witch hazel on the scalp to cut down the greasiness.