It sure is not easy being a plus size woman. Most stores seem to cater only to those women who 'fit' the accepted standard for female sizes. Does plus size always been boring clothes that always seem to be last year's styles? What about plus size accessories? Often one cannot find bracelets that don't cut into the skin or watches that can be comfortably worn.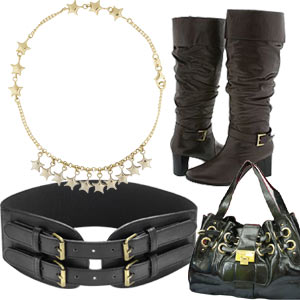 There is no one size that fits all as far as plus sizes go. You might have a wide rear or ample bust or overall bigger build. You might be tall or short and plus sized. Check your frame to see if you are one with a longer upper half or bottom half of the body. Understanding the body type helps in selecting the right plus size accessories and clothes. Pick up some simple tips for plus size shopping. Find out how you can play down the size.
Don't opt for bold prints, bold jewelry or loud designs and stripes. Avoid too much detailing on the clothes. But do not go in for very delicate fragile jewelry as it will only serve to accentuate your bulk. Long necklaces and vertical pendants are ideal plus size accessories as they make for a leaner look.
Go in for dresses with tummy control and supporting bust bodice. Invest in a couple of good quality body shapers.
Don't go for baggy clothes that appear like a tent and make you look sloppy. Wear clothes that fit right, not too tight either. Choose tops that emphasize the natural waistline.
You can select sheath dresses that drape you. Try longer flowing skirts, especially if you are tall and plus size. Grecian styles or halter tops and asymmetrical shoulders can be selected for gowns. Go in for embellishment at the neckline, sleeves and hips for a slimmer effect.
The right plus size accessory can enhance a simple outfit and add to the overall slimming effect that you so desire.
Wearing heels helps in appearing taller and consequently slimmer. This is because the legs are elongated.
The right hairstyle can do wonders for a slimming effect for plus size women. Long hair can be worn straight. If you are going in for very short styles, discuss with your stylist so as to add to the overall attempt to lengthen the frame.
When shopping for plus size pants, do not take one that tapers at the leg. Straight styles give a leaner look. Go in for solid colors, preferably dark.
For plus size prom dresses, try soft fabrics that fall well such as crepe, satin, chiffon and silk. A princess cut or empire waist gown is sure to look good on a plus size.